Course Leader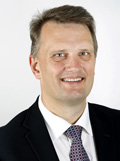 Lars Hajslund
Born February 6, 1968, in Dronninglund , Denmark
Lars is an international networker. Through his work with organizations, leaders, entrepreneurs and employees in more than 100 countries, Lars has developed a great understanding of the larger processes, leadership, strategic thinking and development, creation of dynamic learning environments and of course different cultures.
A natural desire to be with people and to contribute to their development makes a workshop with Lars fun, profound, educational and full of energy. Lars dares to be in the areas of life, where development not necessarily feels good, but definitely is good.
Lars is an experienced past international JCI Board of Directors member and was JCI President in 2006. Lars was responsible for 200,000 young active citizens worldwide.
Lars has worked with leadership throughout his entire career. Today Lars manages the operations of one of the largest and most flexible experience centers in Scandinavia. Every year MCH have about 900,000 guests for fairs and exhibitions, culture and events, meetings, conferences and parties as well as sporting events.
MCH is the soul of experiences – from Scandinavia's largest fairs and conferences to rock, theatre, musicals and large sporting events.
Lars is a graduate from the 12th JCI Academy in Hiroshima, Japan and holds a Bachelors Degree in Hotel Management. Lars is an International Graduate of the JCI Training Institute.
Lars has over the years worked with strategic development of Danish and international organizations through consulting, workshops and direct leadership – all with the aim of creating outstanding transformation
Career
profile
Born February 6, 1968, in Dronninglund , Denmark
Joined JCI Denmark (JCI Bronderslev) in 1993
1996 JCI Bronderslev Local President
2000 JCI Denmark National President
2001 JCI Vice President
2002 JCI Executive Vice President
2004 JCI University Director
2005 JCI Chief Executive Assistant to the President
2006 JCI President
2007 JCI Immediate Past President, Course Leader of 20th JCI Academy in Morioka
2008 Course Leader of 21st JCI Academy in Tachikawa
2009 Course Leader of 22nd JCI Academy in Kagoshima
2010 Course Leader of 23rd JCI Academy in Tukuba
2011 Course Leader of 23rd JCI Academy in Toyama
2012 Course Leader of 23rd JCI Academy in Sapporo
2013 Course Leader of 24rd JCI Academy in Fukuyama